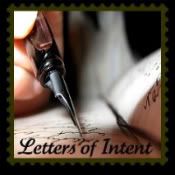 Has the weather done a 180 on you this week with temperatures in the 70's one day and in the 40's the next? Has dinner become cold cereal and milk because no one else will cook and you're sick of doing it? Have you used the fluff cycle on the dryer more often than usual to "iron" your clothes this week? Or maybe you are starting Spring Break and can't wait to get started! Well tell me about it…in letter form of course. Write the who, what, when, where, and why of it all. Grab the button from my sidebar, and link up at the bottom. I look forward to your
Letters of Intent!
Dear Baseball Game Schedule Maker,
I know you have a big job and there are only so many days in a week and you have a lot of games that must be played. However, scheduling 10 and 11 year olds for 7:45pm games that last 2 hours on a school night is out of line. Please explain to me how you rationalized keeping 4th and 5th graders up until 10 at night playing a baseball game when they have school the next day. I don't think you can rationalize it, because it is just not rational. I don't miss games, but I will be forced to this season. I have a seven year old who has an 8:00pm bedtime. I will not be keeping him up until almost 11:00pm on a school night because you deemed it appropriate to play these late games. And yes, it will be 11:00pm because you did not seem to realize that the coaches talk to the team after the game, the car must be loaded up with equipment, there is a 15 minute drive home, and a shower is all necessary before my
ten year old
can go to bed. You sir, need to take a serious look at Sunday afternoons and do some rescheduling. This is ridiculous.
Signed,
A
furious
mother.
_________________________________
Dear Followers/Lurkers/Visitors,
I think I have come to the decision to end the link-up to my LOI carnival soon. I will continue to write my letters and if you write letters I would love for you to let me know and I would love to come read them.
Signed,
The time has come.